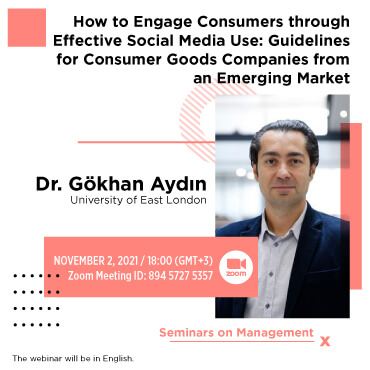 Seminars on Management – Dr. Gökhan Aydın
Seminars on Management event series, organized by Kadir Has University Department of Business Administration, starts on Tuesday, November 2nd. The first speaker of the series will be Dr. Gökhan Aydın, with his speech entitled "How to Engage Consumers through Effective Social Media Use: Guidelines for Consumer Goods Companies from an Emerging Market".
This study aims to establish actionable guidelines and provide strategic insights as a means of increasing the social media effectiveness of consumer brands. Post-related factors in addition to the contextual and temporal factors influencing consumer engagement (ie, reposting, commenting on or liking posts), as an indicator of social media effectiveness, are considered in detail in the research model. Moreover, the model considers differences between industries as well as social media platforms. A total of 1130 posts made by four brands, two each from the durable goods and fast-moving consumer goods sectors, were collected from Facebook and Twitter in Turkey. Through predictive analysis, four different machine learning algorithms were utilized to develop easy-to-apply plans of action and strategies. The findings highlight the significant impact of videos, images, post frequency and interactivity on engagement. Furthermore, social media platforms and the brands themselves were found to be instrumental in influencing engagement levels, indicating that more than one formula is needed for effective social media management. The range and depth of the post-related factors (eg, image type, video length, kind of interactivity) considered go far beyond those found in the significant majority of similar studies. Moreover, the unique setting and the novel data analysis algorithms applied set this study apart from similar ones.
The event will be in English.
Seminars on Management
Title: "How to Engage Consumers through Effective Social Media Use: Guidelines for Consumer Goods Companies from an Emerging Market"
Speaker: Dr. Gökhan Aydın, University of East London
Date: November 2, Tuesday at 18.00 (GMT+3)
Zoom Meeting ID: 894 5727 5357