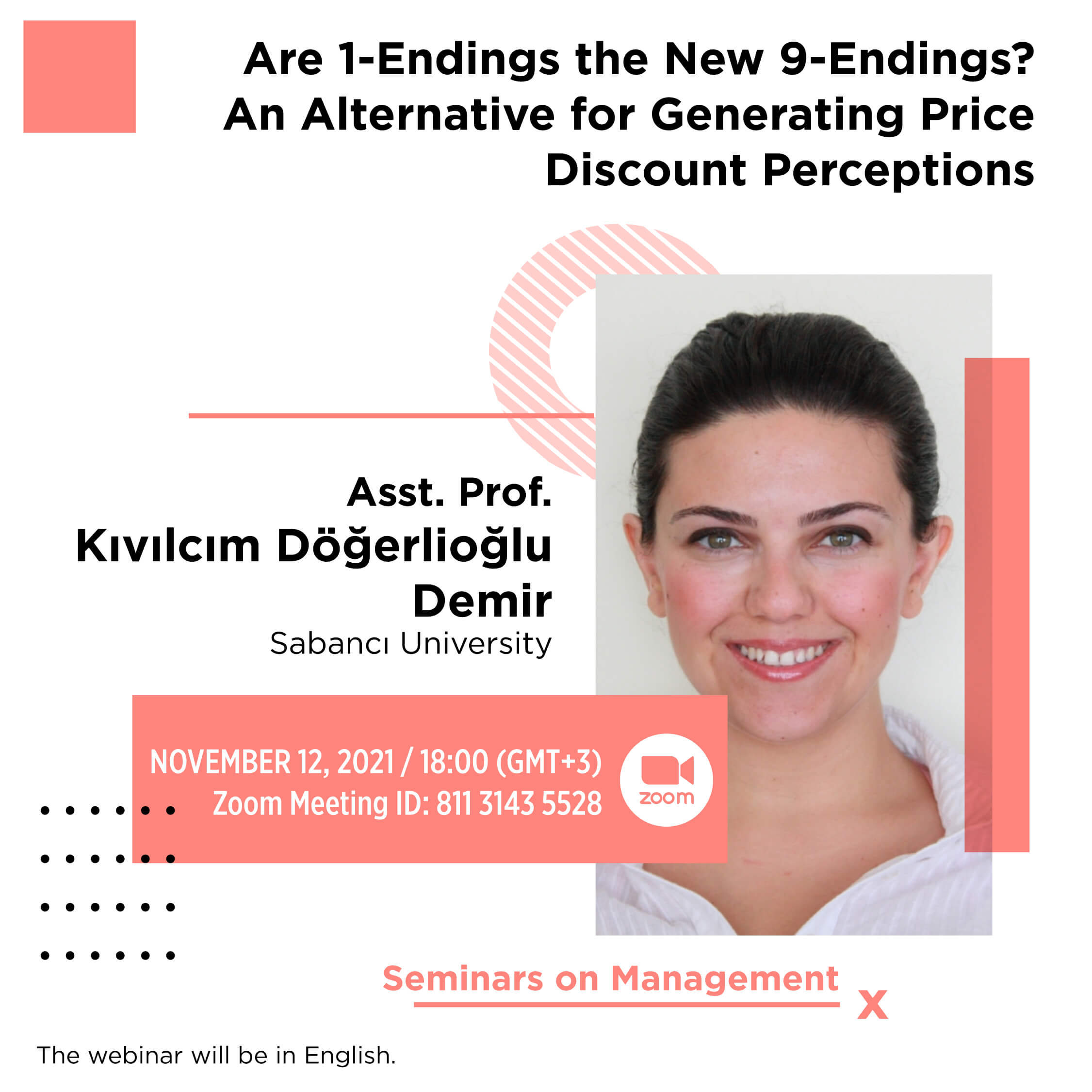 Seminars on Management – Asst. Prof. Kıvılcım Döğerlioğlu Demir
Seminars on Management series, organized by Kadir Has University Department of Business Administration, is hosting Asst. Prof. Kıvılcım Döğerlioğlu Demir from Sabancı University on Friday, November 12. 
You can watch Dr. Döğerlioğlu Demir's talk titled "Are 1-Endings the New 9-Endings? An Alternative for Generating Price Discount Perceptions" on Zoom.
Although extant literature confirms the efficacy of 9-endings, how consumers perceive multi-digit prices with repeating identical ending digits such as $1,999 is less clear. Research indicates that consumers tend to truncate 9-ending prices and associate them with discounts. However, five experiments demonstrate that consumers are likely to perceive multi-digit prices with 1-endings (e.g., $2,111) as being more on a discount than prices with 9-endings (e.g., $1,999). Moreover, a year-long field study shows that 1-ending (vs. 9-ending) prices receive more click-through rates when presented in online ads. These novel findings inform retailers on generating higher discount perceptions by using 1-endings rather than 9-endings in multi-digit prices. 
The event will be in English.
Seminars on Management
Title: "Are 1-Endings the New 9-Endings? An Alternative for Generating Price Discount Perceptions"
Speaker: Dr. Öğr. Üyesi Kıvılcım Döğerlioğlu Demir, Sabancı Üniversitesi
Date: November 12, Friday at 18.00 (GMT+3)
Zoom Meeting ID: 811 3143 5528